"The man with a great fan club on the web and with compliments regarding his talent and ethics is the next entrant to this year's Eurostar final top ten.
The man who has been doubted by local media as much as no one before, seems to have great support on the web since his fans plundered oikotimes.com comment system by entering his name!" Oikotimes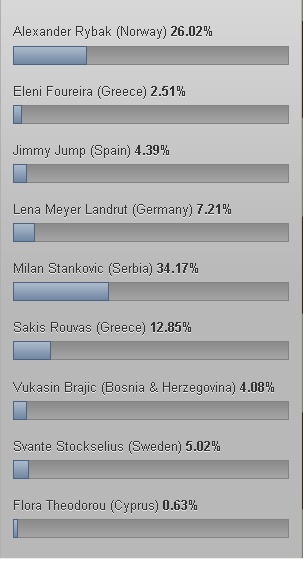 Am reusit!! Milan este in topul 10 al celor mai buni cantareti de la Eurovision!!
trebuie sa-l votam aici
http://www.oikotimes.com/v2/in­dex.php?file=articles&id=9282
si sa-l ajutam sa castige premiul EUROSTAR AWARD 2010!!
Deocamdata Milan este primul, dar trebuie sa-l sprijinim in continuare, astfel incat sa ramana asa pana la sfarsit... Alexander Rybak, care este si el un foarte bun cantaret si care are multi fani, este pe locul 2, la o diferenta nu foarte mare de voturi.
_________________